Public sector banks fear losing good talent to new banks
P
ublic Sector Banks (PSBs), already facing a talent crunch, are set to lose some of their most talented people to the new private banks, scouting for the best brains to run their business.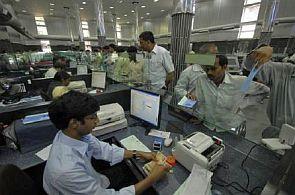 The biggest exodus might be seen at the middle and lower levels, due to better remuneration and career prospects.
Though the first licence might not come up before the end of this financial year, as the Reserve Bank of India (RBI) received applications from 26 players barely a fortnight ago, PSBs are already getting the jitters.
Some disgruntled executives from government banks and financial institutions are also banking upon the new banks to give a new lease of life to their career.
"Already there is a talent crunch for PSBs and new banks will take away their best manpower. If you look at the best credit team of some leading private sector lenders today, it is from government banks," admitted a government official, who did not want to be identified.
It is not the sheer number of people leaving for greener pastures that will pinch the government banks.
A few private banks might not be able to make much of a difference to PSBs, with a workforce of about 800,000.
More than attrition, it is the quality of manpower that is worrying them. It could pinch small and mid-size PSBs harder as compared to their bigger peers, as their employees get lesser perks.
By rough estimates, a minimum of six to eight people will be required per branch in rural areas and 10-12 in metros by these new banks, while their head office might have about 100 people.
"As their model would be technology-based, these banks might not need too many people for their branches. The issue is that all competent people of government banks would leave. Poaching will mainly happen at the level of assistant general manager, deputy general manager, and general manager. These positions will almost get empty," said a former executive of a state-run bank.
All public and private banks put together have a little over one million employees today, of which 470,000 are in the officer rank, 402,521 are clerks and about 178,000 are subordinates.
PSBs are facing a shortage at all levels and are criticised often for not doing succession planning in advance. The profit they make per employee is much less than private sector players.
A substantial part of the current workforce in PSBs had joined in the 1970s. In a report in 2010, the Khandewal committee, set up by the government to look into human resources issues in banks, had said over the following two-and-a-half years, about 80 per cent of the employees at general manager level would retire.
The picture it painted for deputy general manager and assistant general manager rank was not rosy either, with 65 per cent and 58 per cent employees projected to be reaching superannuation in the near future, respectively.
One way of averting the crisis to some extent is upgrading the skills of existing staff and training them for bigger roles, and also getting more people and training them.
The issue, however, say bankers, is that there are not enough employable people in the market.
In March, State Bank of India had received 1.7 million applications for just 1,500 probationary officers, but not all were employable.
"When we conduct interviews for a probationary officer, not many fit the bill. But we have to manage with whatever is available," said a senior executive with a state-owned bank.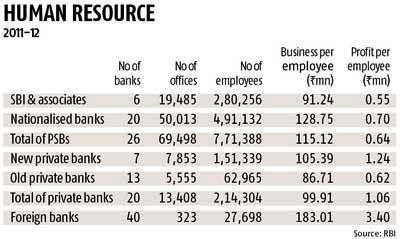 Though there is no dearth of training institutions for bank personnel in the country today, bankers say it is not possible to upgrade skills of people beyond an extent.
"Training capacity is there. But you can train and skill people to the level they can perform," said the ministry official quoted above.
PSBs plan to hire 50,000 people and open 10,000 branches in the current financial year, against 63,000 in 2012-13.
The Institute of Banking Personnel Selection, an autonomous body, is engaged in recruitment of personnel and internal promotion in banks and financial institutions.
It conducts a common entrance test for recruiting employees for all PSBs.
Staff strength of PSBs decreased from 883,000 employees in 1998-99 to 757,000 in 2010-11.
Over these years, the cost per employee increased from Rs 167,000 to Rs 716,000, respectively.
The staff of private sector banks, on the other hand, has increased from 60,777 to 218,679 during these years, while their cost per employee went up from Rs 169,000 to Rs 563,000.
Raman thakur comment